Beschrijving
Moxa Remote Connect (MRC) is an easy-to-use, secure, and versatile networking solution designed to seamlessly bridge field devices, engineers, and application servers together over the Internet for industrial applications. The solution combines MRC Server, MRC Gateway, and MRC Client. The MRC Server is a connection management platform that determines how the MRC Gateways and MRC Clients are related. The MRC Gateway is a secure gateway that connects Ethernet-ready devices to MRC server portals. The MRC Client is a software tool for connecting an engineer's laptop to the MRC server portal. The MRC Server administrator manages all of these connections through a secure HTTPS web console.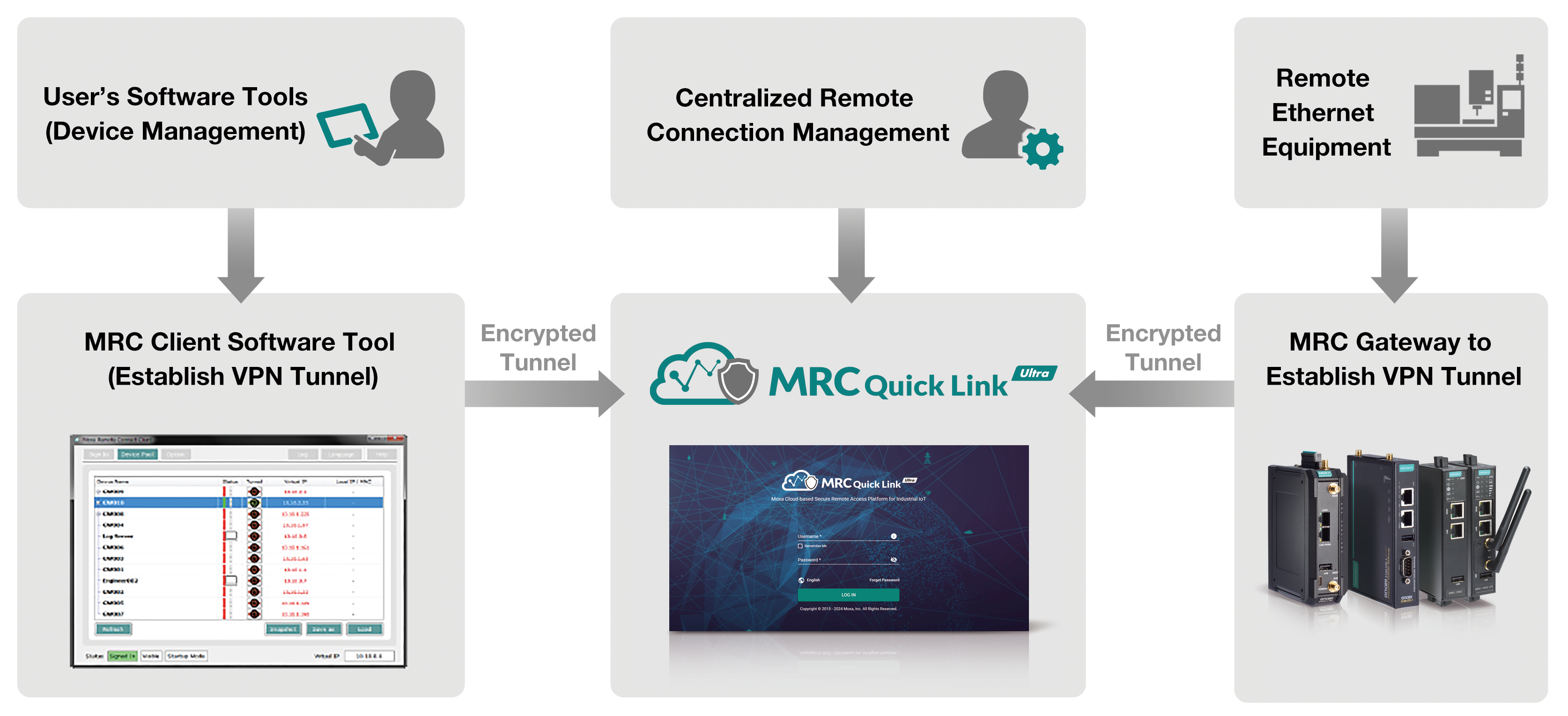 Features and Benefits
Security with embedded firewall and whitelist remote access control

End-to-end data encryption

Auto virtual IP mapping eliminates the need for field IP management

Transparent tunnels suitable for existing software tools

Flexibility for defining the relation between remote connections
Featured Highlights
Machine access is fully controlled by machine operators for on-demand maintenance service

An embedded firewall allows remote access under whitelist control without disrupting local networks at field sites

VPN knowledge is not required to deploy the solution

Plug & play operation makes it easy to get up and running

Supports existing IT cybersecurity policies

Less effort is required from your IT engineers

Changes to network configurations are not required at field sites

Connect with multiple field machines simultaneously via a virtual IP mapping scheme
User Scenarios
The MRC Suite supports multiple connection types and provides numerous benefits. Below are three examples where the Moxa Remote Connect Suite can benefit engineers and businesses.
On-Demand Remote Maintenance, Diagnosis, and Troubleshooting
To minimize security issues and reduce costs, Moxa Remote Connect allows engineers to build remote connections only when necessary.

Remote Monitoring Minimizes Onsite Maintenance
Moxa Remote Connect helps engineers monitor the status of machines operating at remote sites. Continual monitoring of machine status allows engineers to make adjustments to settings remotely, reducing the need for engineers to make site visits to troubleshoot and fix onsite issues.

LAN-Like Site-to-Site Secure Network Infrastructure
Moxa Remote Connect enables communication between different machines even though the machines are not at the same location. With Moxa Remote Connect, machines can transmit data to and from each other, just as though they were communicating over a local area network (LAN).